GSP's Argument for GOAT
Credit: BJPenn.com By: Bryce
As his comeback bout with Michael Bisping for the 185 pound strap draws nearer and nearer, it is a good time to revisit the imopssible question of who is the greatest MMA fighter of all time. Some in those argument include Anderson Silva, Jon Jones (even though he is a problem child), Demetrious Johnson, Fedor Emelianenko, and of course GSP. The long-time Welterweight champion has quite the case for GOAT.
https://www.youtube.com/watch?v=ksP1Tv9J8Yk
GSP is a true master at his craft. He has shown versatility in his game, with 8 KOs and 5 submissions. He has two losses in MMA, they were to two Hall of Famers in Matt Serra and Matt Hughes. He came back and finished both of them, showing he can rebound well off of a loss. He had both the cardio to last five rounds, often outlasting his opponents, along with the technical skills, on the ground and the feet. His grappling was top notch, leading him to ranking first in UFC history in takedowns landed and second in takedown accuracy.
Credit: Bloody Elbow
Another unique part of GSP is his base. The general formula for success in MMA has come from either a strong boxing or grappling base, while GSP first focused on karate, as noted by his walk-ins wearing a gi and his signature headband. Along with this, he utilizes a lot of gymnastics training along with his traditional MMA training. He has said that he does this because he said gymnasts are the most athletic people in the world, and clearly it has worked.
https://www.youtube.com/watch?v=6-Wx7Ma-xOk
His base and unorthodox training has led to one of the greatest careers in MMA history, with all but 6 of his fights being in the UFC. He has shined bright on the biggest stage in the sport for over a decade now, and he's coming back to add even more to his story.
Credit: Fightland - Vice
If "Rush" can defeat Michael Bisping at UFC 217 at Madison Square Garden, there will certainly be many more people that will throw GSP's name in the GOAT race. Regardless of if he is the greatest or not, he is certainly one of the best to ever do it, is a model for younger fighters, and is a pioneer to the sport. I look forward to his return to the cage.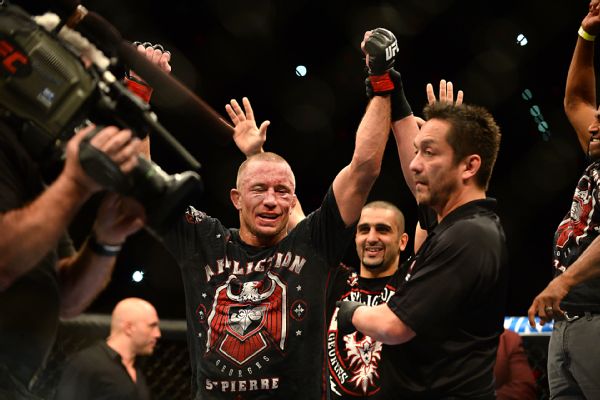 Credit: ESPN1005.com UPDATE:
He did it. He beat Bisping by a fantastic submission. He looked crisp. He looked sharp. He's back and he's the best ever. He has the best resume, he came back after 4 years and beat a larger man. There's nothing he can't do. All Hail Lord GSP. This is his world now.